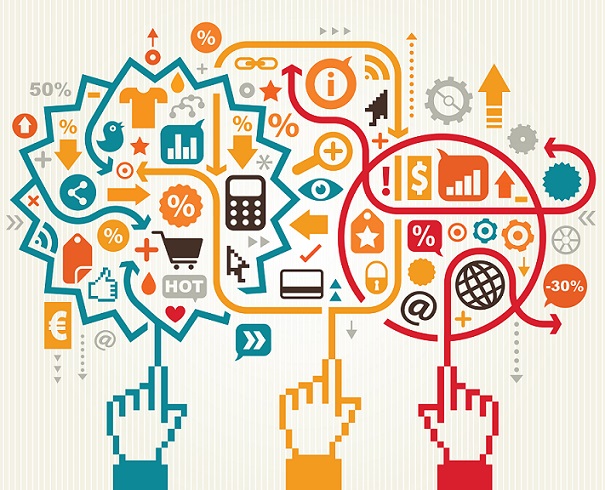 Many of our IT and BPO services clients have not embraced or even launched (afraid maybe?) a social media program. By being silent, they are missing out on amazing opportunities from what has proven to be an effective marketing tool to promote their services and products to their communities (and should I dare say global communities). So, if you are one of those companies, it's time to embark on a new adventure. Here are some tips to executing strategic social media programs more effectively.
Note: Make sure you are ready to embark on this adventure and you are planning to commit time and creativity on a regular basis.
Ready, Set, Be "Social"
The following are 10 tips that will help you create a social media program that will attract and engage customers and ultimately help grow your business.
1. Write remarkable and neutral content that will position you as an industry expert
Show off your expertise in your area, but don't blatantly push your products/services. The purpose here is to establish a following and a "social" presence by showcasing reflections, analysis, and comprehension of what matters to your target audience.
2. Make your title brilliant
This is extremely important in order to differentiate your content from others. It will grab the attention of the audience, which lets not forget is bombarded with more and more information everyday a multitude of avenues. This is a unique chance to shine and rise above the crowd. Use your imagination: attention can be grabbed by using humor, out of the box or mysterious titles. "Burn after reading" was the title of a mass email I was sent by an online catalogue – it definitely raised my curiosity.
3. Diversify and experiment with style and medium
There is a plethora of "social" mediums and channels; and every day there are new ways to reach your target audience, so explore new ways to push your content. Try them all: blog, video, article, guest blogs, and links via Facebook, Twitter, YouTube… the list goes on.
4. Use a mix of medias to promote your story
Be "green" with your marketing assets: recycle, reuse, re-purpose. Don't use only one marketing avenue to promote or push one piece of content, use all available avenues with different spins on the same material. This way, your audience will be able to get the information no matter what channel they use – and you'll save time.
5. Make friends within your mediasphere and blogosphere, and subscribe to other blogs
Follow, like and subscribe to other experts and companies' blogs and postings; enlarge your circle of friends. This will help you expand your audience since most bloggers will reciprocate the favor. You also show that you are keeping yourself in the know and are not afraid of supporting someone else, including your competition. And don't forget to promote people that write about you.
6. Participate/contribute to your community
This goes hand in hand with the previous tip; Make thoughtful comments, repost, refer, retweet others' relevant materials. This is crucial to create a sense of community. Also, you should try to contribute as guest blogger, for example, this will help you gain recognition and traction as well as establish your expertise in the field. Finally, make sure you follow up on comments in a timely manner.
7. Don't try to be perfect
Perfection is not necessary as long as the content is pertinent and meaningful. Keep the tone professional but genuine. So have fun and create content that is relevant and interesting.
8. Share meaningful stories
This goes with #7 – you are trying to build a long lasting relationship with your audience. Clients want to relate to your experience and knowledge – so be genuine, creative, and have something useful to say. They are not looking for perfect; they are looking for solid and relevant solutions they can trust and build upon.
9. Integrate your social media program into your marketing plan
Social media should be part of your overall marketing strategy serving very specific goals and objectives. For example, when participating in a show, social media can be a very effective way to maximize your presence by promoting demos, speaking engagements, or raffles you might have. In addition, utilize social media to promote your thought leadership initiatives and assets.
10. Listen to your audience
To be responsive and stay relevant to your audience you need to stay tuned to what people are expressing in their comments; it will give you insights on what they want to learn/read about, what information they need to do their job. Make their jobs/lives easier by keeping an open ear for what they need and you'll retain their attention.
By listening attentively, you will also gain valuable insights on your business: what direction should you should explore? What is missing in you mix of services/products? What areas need improvement?
I hope this will get you on your way to being more social – And please let me know what topics you would like us to talk about.