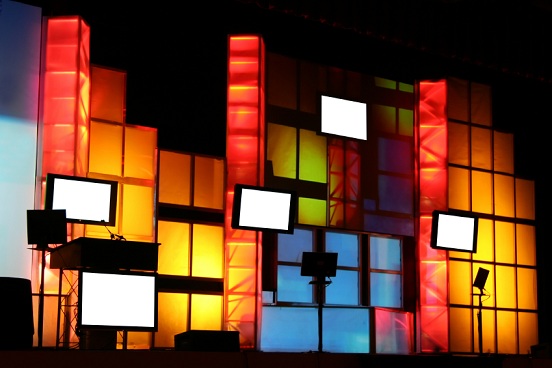 Beyond a welcoming booth, creative graphics, and the inviting attitudes, you can now use technology to improve your event ROI and maximize effectiveness. Technology can be used to achieve a wide range of objectives: attract visitors, make finding your booth a breeze, make your job easier…
Technology is not meant to replace personal interactions and conversation; it should be used to enable you to engage visitors and begin building a relationship. Here are some of the latest technologies that can improve the impact and success of your events – expand your tradeshow tool box:
Useful Apps – With everyone having mobile devices, mobile applications can be a easy way to draw attention to your booth.  Foursquare, for example, can help you attract visitors to your booth by letting you register your booth and linking the visitor with special offers. You can also create your own app for attendees to download, demonstrating your capabilities.
Interactive Activities – It's always more fun to touch and feel something than to passively observe a product in action.  Transform your booth into a show stopper by using interactive technology and enabling your prospects gain information on your products/services while being entertained. For example, touch screen tablet devices such as the iPad allow attendees to interact with your products/services via a demo while allowing you to qualify or disqualify them as a potential lead.
Easy Access to Collaterals – Most people do not want to be carrying around large amounts of collateral.  Dropbox simplifies sharing and sending your collaterals and demos. Flash drives are another way to share useful information, demos, tutorials, and collaterals with prospects and leave them with something to remind them of your company. QR codes on giveaways are also an effective way to direct your visitors to your website, relevant white paper, or ebooks.
Creative Videos— Videos can be an attention grabber and can use lively and creative animation, imagery, color and movement; don't count on music or voice-over to attract attention since it is sure to be lost in the background noise.  The video should be eye-catching while short enough to keep visitors engaged. Additionally, a testimonial video of satisfied customers can be shared during and after the show since it is difficult to hear on the expo floor.
Engaging Social Media— One of the real benefits of Social Media is often forgotten: connecting with the attendees. First listen to what they are saying. When you can contribute to the topic of conversation, jump in and engage!
Hot Spots/WiFi— Think about providing your own WiFi for your booth, especially if you need the internet for your demonstrations. While the venue may provide WiFi, there will be many other people using that internet too. You don't want your demo speed decreased.
Free Charging Stations— This is an issue faced by everyone: battery running low on all mobile devices. By providing a charging station at your booth, you create a traffic draw; however you will need a wide range of connectors. This can provide you with enough time to discuss in depth services with visitors.
In order to capitalize on your efforts, keep your efforts mobile and easy to access; content should be brief to optimize the use of the technology and captivate the attention of your audience.