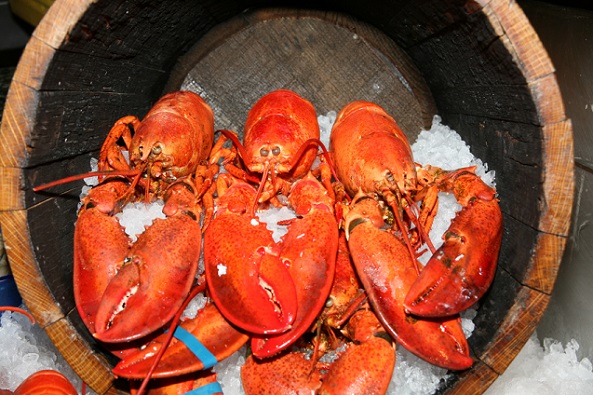 DAVIS, CA (April 1, 2013) – Ahilia, a knowledge based marketing and consulting firm that services the Global IT, BPO, and Technology industries, was looking to expand their services into the food industry, more specifically, a gourmet lobster food truck. Upon the escape of one rogue lobster, the FDA was notified of the food operation taking place in a local business office with camping stove rather than the required industrial kitchen.
The plan to expand into the lobster food truck industry began several weeks prior, when Marketing Associate, Diya Tahiliani, began offering frozen yogurt topping consulting services at a local shop during what CEO Amrita Joshi believed to be "coffee breaks". One night while working late Ms. Tahiliani confessed her activities and Ms. Joshi, lacking sufficient sleep, agreed to expand the business into the food market. It was not long before all US members of the team were on board. Marketing Manager, Delphine Wilson, worked alongside "Chef" Tahiliani, to create a menu entirely in French consisting of such food truck delicacies including Lobster Tater Tots, Lobster Sliders, Lobster Poutin, and of course, Classic Grilled Lobster Tail. Marketing Director, Juliana Gidwani was diligently shopping online for designer uniforms and what she described as "metro" plastic bibs for patrons when the authorities arrived at the office.
The Davis local who reported suspicious activity to the authorities commented anonymously, "I saw what I believed to be a large cockroach on the porch steps of the Ahilia office. With the early spring we are seeing this year, it wouldn't be that unusual. Upon closer inspection I realized that this was not cockroach, but a crustacean, a lobster to be precise.  I glanced inside the window of the office and noticed at least a dozen buckets filled with lobsters and two women [CEO, Amrita Joshi and Marketing Manager, Delphine Wilson] scrambling around to keep the lobsters in the bucket."
While the lobsters were confiscated as evidence, Ms. Joshi and Ms. Wilson were rushed to the emergency room to take care of battle wounds acquired while attempting to keep the lobsters in the buckets. It is reported Ms. Gidwani conveniently talked her way out of questioning. While Ms. Tahiliani was not at the office when the authorities arrived, but was found several hours later hiding under a table at a local frozen yogurt shop only to escape past the authorities. It is reported that Ms. Tahiliani is heading south as she continues to use her credit card at various food trucks along the coastal highway.
While the Ahilia headquarters in Davis, CA are temporarily closed it is unlikely that that the company will keep their business license. When we finally made contact with Ms. Joshi as she struggled to get her mail with bandaged handsl outside her Davis home, she refused to comment.