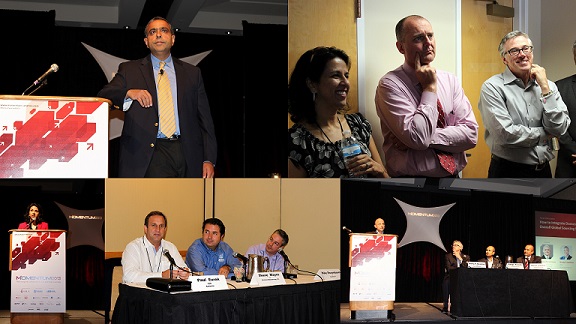 Seriously, what a sigh of relief. I am not sure I have been so anxious about anything since my college applications. We are going through the evaluations now, but anecdotally we heard two things over and over again. 1) That the conference was very well run (thanks to our partners at Total Event Solutions) and of course, Ahilia's Managing Director, aka "The Whip" (as we affectionately call her), Juliana Gidwani, and 2) that the content was valuable and sound. As a marketing firm we have seen too many conferences that don't spend enough time focused on the actual content of sessions and thus become heavily reliant on pay–to-play speaker slots, which many times brings the quality of content down. We were thrilled to be able to hand pick our speakers and content for this inaugural conference. I thank all or our speakers for their advance preparation and putting up with my rounds of feedback – it was well worth it!
Highlights for me from the conference? Definitely Ron Hira's keynote – honestly it scared the hell out of me a few times – but seriously, he did an amazing job of explaining the impact global sourcing has had on the U.S. economy, why we haven't seen a big outcry from government and industry leaders, and teed up how we as industry leaders can influence public policy.
Phil Fersht's panel on the state of sourcing and changing demand for U.S. Outsourcing was also fantastic. The panelists comprised of buyers of outsourcing services all of whom had experience with offshoring, gave insightful comments for why onshoring works today, with or without an offshoring component.
Eugene Kublanov's panel on integrating domestic sourcing into global sourcing model was also remarkable. Softtek CEO, Marcos Jimenez, and Ranga Puranik, EVP at Persistent Systems, were very frank on why they are expanding in the U.S. As global sourcing leaders, their words and actions really show that there is truly an overall business need due to changing business and technology dynamics – this isn't just rhetoric!
Case studies from Amway, IBM, Hudson's Bay Company and the state of Georgia were also very interesting because they all had different reasons for onshoring and different levels of offshoring within their organizations. It became evident that a clear model for U.S. domestic sourcing isn't established yet. It is still fluid, with buyers and providers coming together for numerous reasons and "experimenting" with various services and models.
The support and excitement we received from various Economic Development Agencies was  the biggest surprise for me while planning this conference. I now understand that these agencies can be a big part of the movement in promoting U.S. outsourcing and look forward to working with them more in the future.
And who can forget eye-opening site visit to Augusta, Georgia? Visiting Rural Sourcing and having lunch with Mayor Deke Copenhaver were definitely the highlights. The renovated old brick cotton mill that has been renovated into office space and lofts was really an architectural dream – it reminded me of Chelsea Market in New York City. To hear how the Mayor has spurred economic development in a variety of ways from encouraging IT and BPO services, to fostering the arts, organizing hackathons, bringing in Starbucks, to investing in medical technology, (the list goes on!) was very enlightening and encouraging.
Thank you again to all who attended the inaugural conference, to our faithful sponsors and to our speakers who made the content of this conference worth attending. Please comment, email and/or call me if you want to be involved in this domestic sourcing movement!